Midwest's premiere source for Belted
Galloway genetics for the past 20 years.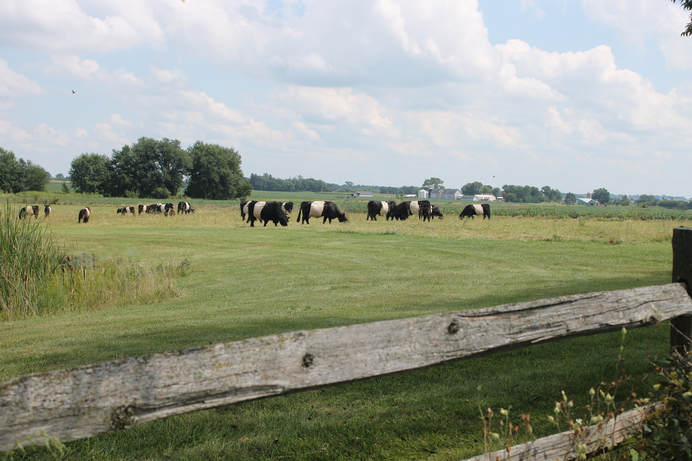 Sunnybrook Farms is located in Belvidere, IL and is owned by the Willis Family, Terry, Julie, Chris and Steve. Our goal is to produce cattle that work in the pasture as well as the show ring. We take great pride in selecting cattle and genetics that will work for breeders at all levels. With our strong 42 year background in the Angus industry, we have implemented the use of production records, DNA trait identification, and carcass results from the use of ultrasound and slaughter data to further the predictability of our offspring. For over a decade we have been breeding and showing Belted Galloways successfully at the local, state and national level. We invite you to give us a call or to stop by and see what we have to offer. Cattle and semen are available at all times. WE DON'T BREED SHOW CATTLE , WE SHOW BREEDING CATTLE. We hope you enjoy your visit to our website and will check back often for updates and news.
---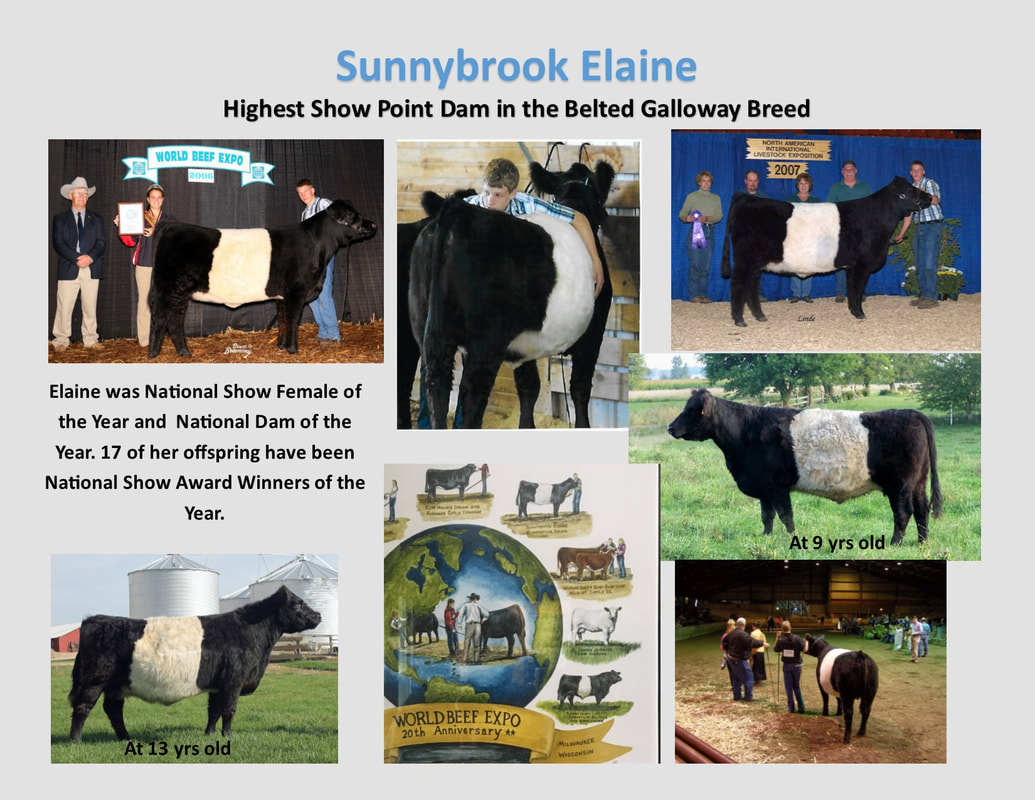 ---
News From Over the Fence

---

Check Out our 2018 Calves on the Cattle For Sale Page on Our Website

The list of Sires and Dams of Merit has been updated. See the U.S. Beltie News, January, 2018

http://beltie.org/PDFs/newsletter/2018/January_2018.

Beltie Beef is good for you . See the new study on Beltie Beef at

www.beltie.org

The Butt Brothers
We are extremely proud with the amount of muscle and bone that our cattle are exhibiting. Left to Right Sunnybrook Rancher, Sunnybrook Mojito, Countyline Charles, Countyline Connor, and Sunnybrook Honour 2 Unique sons and 3 Sunnybrook Valor sons.

---

4 Years later......
​The Butt Brothers 2018
Sunnybrook Brody, Sunnybrook Axel, Sunnybrook Bedrock, PVF Extra Point, A Legacy Son, and a Morgan son (Griffen's full brother)
5 Connor Sons and a Clifton Hercules

There Are Good Cattle That Profile

| | |
| --- | --- |
| Sunnybrook Axel | ​ Sunnybrook Cybil |

There Are Good Cattle With Rear Ends


Then There Are Great Cattle
That Have Both!
What do all the Conner calves have in commo​n?
Correctness, Muscle, Bone, and Consistency.
Connor is working on his 4th generation of calves




Named 2018 National Breeder of the Year and 2018 National Exhibitor of the Year

2016,2017 and 2018 Premier Breeder and Premier Exhibitor National show at NAILE

---

Sunnybrook Cybil 2018 Grand Champion Female at NAILE

Dam: Sunnybrook Elise

---

First Place Breeders Herd At NAILE
​ALL CONNOR CALVES
---
Visitors Are Always Welcome
Terry and Julie Willis 2201 Stone Quarry Rd. Belvidere, IL 61008

E-Mail: sbfarms@hotmail.com Phone: 815-547-6912 Cell 815-222-5470